Barrierefreie Informationen
Schriftgröße
Normal | Groß | Extra Groß

Dental Office
Dr. Wim van Thoor - Certified Implantologist
Waldfeuchter Strasse 301 · 52525 Heinsberg-Kirchhoven · Tel.: 02452 989 200

Praxis | Implantology | Cosmetic dentistry | Peridontology | Prophylaxis | Child dentistry | Dentistry | Anesthesia | Lab Bellissimo | Linkliste | Kontakt Anfahrt | Impressum

Tooth Replacement | Edentoulus patient | Bone augmentation | Strong right away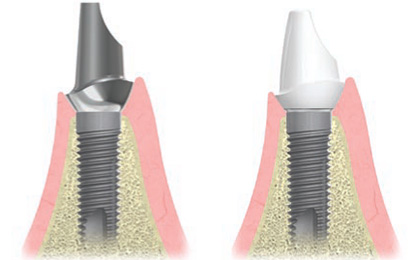 Titanium is received as tissue, produced naturally in the body. Titanium implants are being ed ambulatory and under local anasthesia after comprehensive diagnostics and consulting. This implant, filling the former tooth space will adhese firmly with the maxilla.
An implant works just like the natural root of a tooth. Like the natural one, it effects the force executed during the chewing process onto the jaw-bone, what keeps him healthily loaded and vital. During the time of recovery our laboratories will provide you with a sophisticated, though temporary dental prosthesis, which allows you to eat, speak and laugh almost normally.
It is highly unlikely for the implant, once adhesion with the bone and flesh is completed after 6 weeks to 4 months, to become lost.
In the branch of implantology a functional and trusting cooperation between the dentist deducting the referral and the surgeon to achieve the intended results. In case of patients who have been referred to us by their dentists, we only effect an implantation on the patient, after broad consultation with his dentist.
It is indeed this very collaboration between dentist, surgeon and technician that guarantees the continuous success in implantology.
Surgical and prosthetic teamwork...